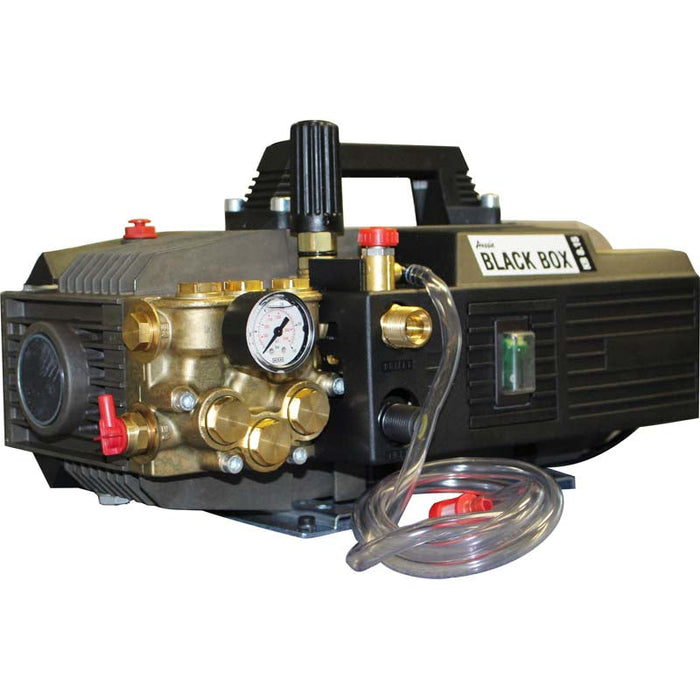 Aussie Pumps Black Box. 2175-3400Psi. 8 L/Min 4 Pole. 2.6Kw 240V. Turbo Lance included free of charge
Aussie Pumps Black Box. 2175-3400Psi. 8 L/Min 4 Pole. 2.6Kw 240V. Turbo Lance included free of charge
This portable pressure washer is a professional pressure cleaner for the price of a domestic one. The motor is a single phase 2.6kW, 1450 RPM, slow speed 4 pole induction motor with integrated thermal protection.
The pump end is a close coupled triplex pump and includes ceramic pistons, a brass head and an integrated pressure gauge and thermal dump. The thermal dump protects the machine from being run continuously with the gun shut. High-quality accessories include an 8-metre wire braid hose, pro-gun, Vario lance and bonus turbo lance
The Aussie Black Box can be mounted to an especially configured optional steel trolley. The two-wheeled trolley can be fitted with an optional hose reel with a 15-metre wire braid high-pressure hose. The reel facilitates storage of the long-length hose, reduces the associated trip hazard, and protects it from abrasion.
For more information or just to have a yarn, call us on 1300 326 453
Delivery is free to most areas. Call us for a yarn